Advantages of Garage Floor Epoxy
Here are the major benefits of having garage floor epoxy for your home:
Extremely Durable

Epoxy garage flooring can withstand heavyweight and impact. It transforms concrete into an extremely durable surface. Many warehouses, automotive showrooms, and industrial structures have epoxy flooring because of its durability. For your garage, epoxy-reinforced flooring can withstand car weight and damage. It is resistant to peeling, cracks, stains, scratches, and chemicals. It's an excellent option for many businesses and homes.

Cost-effective

With its resistance to stain and damages, it can last up to many years, making it a cost-effective flooring solution. It is exceptionally heavy-duty, which means minimal damages and repairs, leading to more savings. Epoxy garage floor coating is an excellent investment that adds value to your home. It typically has a longer life span than other flooring solutions.

Customizable

It is functional and decorative. Epoxy garage flooring can add beauty and brightness to your home. It gives a polished, glossy, and seamless finish.
With epoxy flooring, you can upgrade your old concrete and transform the overall look of your garage.

You can choose from a wide range and variety of colors and patterns to design your space. For instance, one of the most popular designs is metallic epoxy flooring. Found in restaurants, hotel lobbies, homes, and other establishments.

Low-maintenance

Epoxy is simple to maintain epoxy flooring. For some, it virtually requires no maintenance at all. Its durable material repels oil, stains, and water. Spillages are easily cleaned by wiping.

Epoxy garage floors are easy to clean with a broom or water. When necessary, adding a bit of ammonia to water can also be used. For flooring that needs more cleaning, warm water can be used and a brush with soft bristles.

Environmentally Friendly

As previously mentioned, epoxy flooring is straightforward to clean. Liquids and common chemicals cannot penetrate the strong epoxy material.

Since it finishes into a seamless and non-porous flooring, it doesn't require special chemical cleaning agents to keep it in top shape. Additionally, the installation procedure does not consume plenty of water. Epoxy flooring does not dissolve chemicals nor leak harmful substances into the environment. For these reasons, it is considered as the "greener" flooring option.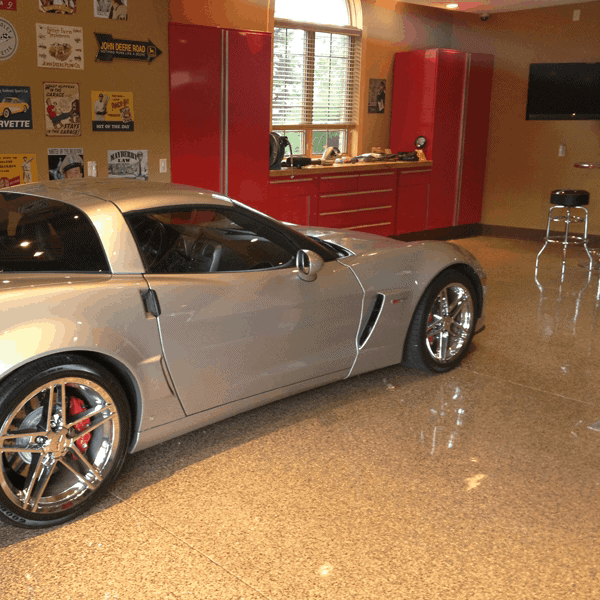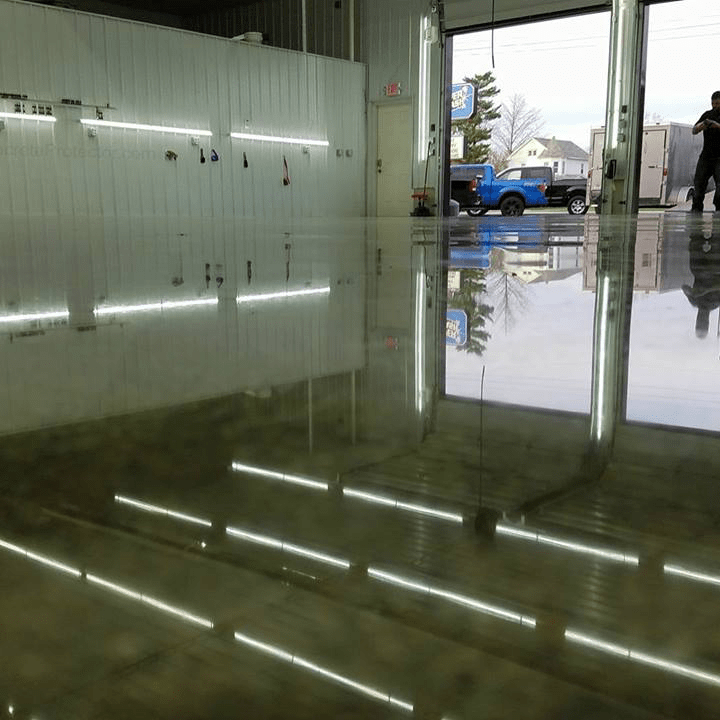 Procedure Preparation
Epoxy flooring systems are composed of hardeners and resins. The flooring consists of multiple layers of epoxy equal to a depth of two millimeters. This results in a solid and durable finish. Surface preparation is a vital step in the installation process. When done correctly, your epoxy garage floor can last up to decades.
First, the concrete floor has to be cleaned thoroughly and clear of moisture and debris. It is highly essential to check the moisture level in the concrete before application. This keeps the epoxy from chipping or peeling off the concrete.
Cracks and other forms of damages are also treated in the preparation stage. This is to avoid the formation of bubbles once the epoxy cures.
Installation
Next is the application process. A primer formula will be used to support adherence of the epoxy to the concrete. It is applied like paint on the entire floor, then allowed to settle.
Multiple layers of epoxy are then installed to the concrete surface. Each layer of coating must be allowed to dry completely before adding the next layer. The epoxy will then be dried and cured for several hours up to several days, depending on the number of layers.
A Word of Caution
Preparing your concrete for epoxy garage flooring installation is generally time-consuming and labor-intensive. To begin with, floor analysis is a crucial step. It is important to measure the moisture level and temperature of the concrete during preparation. This is because epoxy doesn't adhere to moisture. Further, the concrete has to be thoroughly cleaned.
It is worthy to note also that the application of epoxy coating takes time. The layers need to be appropriately dried for several days. The flooring may harden in several minutes or hours, but it needs to be completely cured. The installation procedure has to be done correctly. Otherwise, the longevity of the flooring material will be affected. It will not last as long, and it can be susceptible to damages such as scratches.
That being said, with the help of professionals, possible errors along the process can be avoided, and the best results can be achieved. If needed, your professional flooring contractor can make use of special additives to improve the curing time. Additionally, there tends to be a bit of chemical smell during the application process.
How Much Does It Cost
A professionally-installed epoxy garage floor typically costs around $3 to $12 per square foot. The total cost will also depend on the size, condition of the concrete, and the number of layers needed.
Call Epoxy Fort Worth for Garage Flooring Needs
It is recommended that you consult a professional in finding the best flooring options for you. Our well-trained team can help you evaluate your concrete and carefully prepare it for this type of flooring system.
With our extensive training and years of experience, you can be assured that our team can professionally and safely install epoxy garage flooring in the Fort Worth area. We use high-grade materials in the process. We also maintain a high quality of service to ensure customer satisfaction. We'd love to hear from you. Contact us today for your epoxy garage flooring needs.