Why Choose Commercial Epoxy Flooring?
Regular concrete floors are straightforward to be constructed. However, concrete flooring is not at all attractive. Moreover, it might need minor repair patches now and then. We recommend improving your space with epoxy flooring. It can withstand harsh chemical spills and all types of stains. Your flooring can be very stylish and functional at the same time.
Advantages of Commercial Epoxy Flooring
To help you decide, we have listed the pros of using epoxy flooring.
Durability

The most known advantage of epoxy flooring is its durability. It can hold heavy weights without damage. As a result, many warehouses choose this kind of flooring. It is also resistant to scratches, peelings, and cracks. It can withstand heavy foot traffic. Thus, it has a longer lifespan compared to tiled or wooden floors.

Chemical-Resistance

Epoxy coats are formulated to resist almost all types of chemicals. It is very different from regular paints. With epoxy, you need not worry about gasoline or oil spills. Epoxy floors are proven to resist bleaches and other volatile fluids.

Affordability

When considering the lifetime value of epoxy flooring, prices are comparable to other flooring options. Epoxy lasts longer, requires no stain removal or expensive cleanings, and repels damaging liquids that ruin other flooring options. Many businesses find the installation costs acceptable at $3-$12 per square foot. Besides, the long lifespan makes it a good investment.

Low-Maintenance

Another significant advantage of epoxy flooring is that it needs little maintenance. Most of the time, cleaning with a soft broom is enough. The stains can easily be removed with a cloth and mild cleanser.

Customizable Look

It is possible to achieve a stylish, elegant, and decorative flooring with epoxy. There are various colors and patterns available. We can easily customize depending on your preference.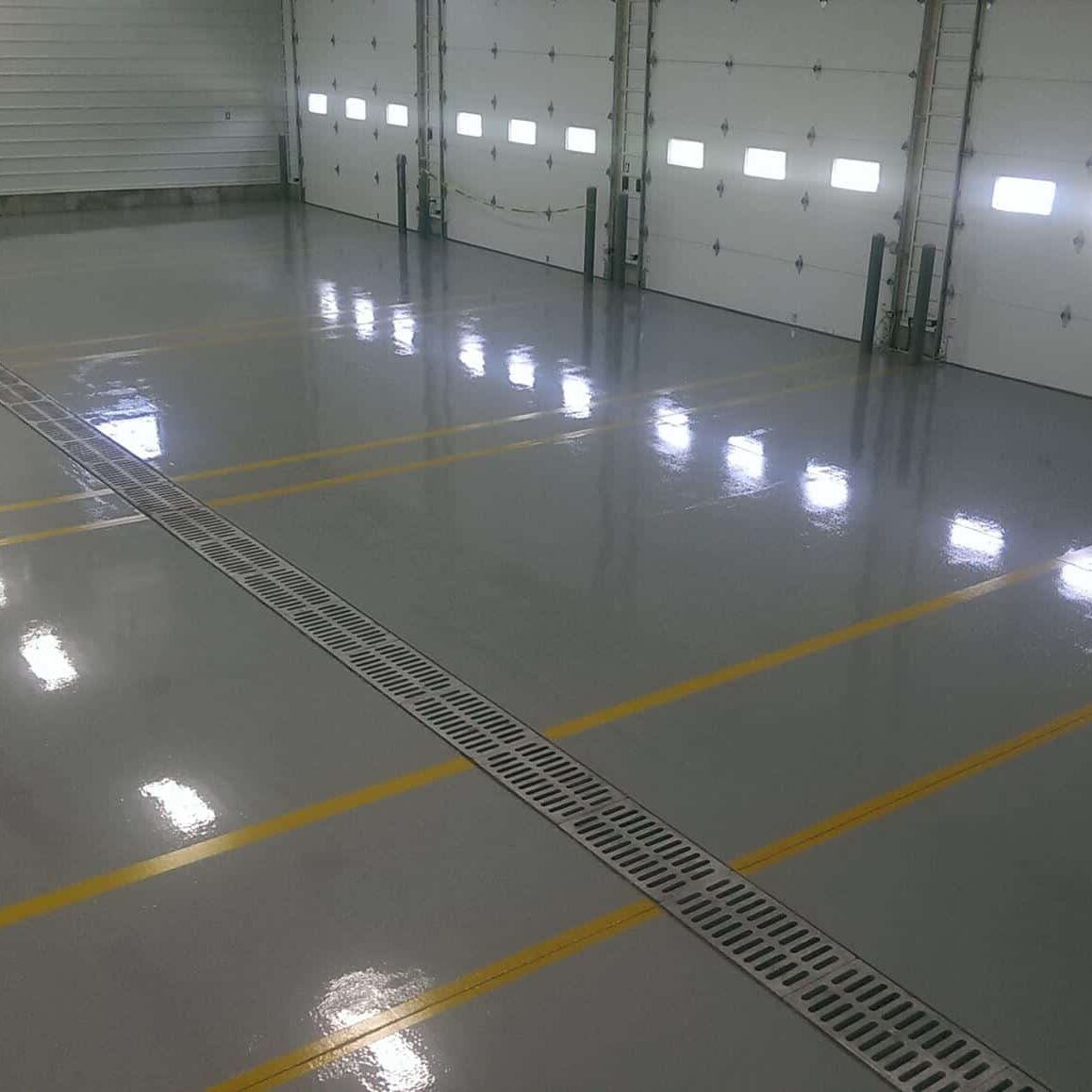 The Installation Process
Step 1: Inspection
The first step in the installation process is site inspection. Our team will discuss if epoxy is indeed your best flooring solution. We will show you the design options available. From here, we will give details on costing and scheduling.
Step 2: Preparation
Before the actual coating, the floor needs to be prepared. There must be no cracks or holes in the floor.
Next, the entire floor surface must be thoroughly cleaned. Any residue from oil, grease or any other substance must be removed. We will scrape hard debris. Then, we will vacuum the floor to make sure there is no dirt.
Finally, we have to make sure that there is no moisture. Surface preparation is a crucial step in the process. This ensures that epoxy will adhere properly to the concrete floor.
Step 3: Application
Once the surface is spot clean, we will begin the application. Note that the process is time-consuming and labor-intensive. The first step is to coat the floor with the right epoxy primer. Doing this results in better epoxy adhesion.
Two coats of epoxy primer are enough. To be effective, allow at least 30 minutes to pass before re-application. Let it dry completely. Epoxy will then be applied to the floor surface. Note that epoxy is a liquid resin hardened by a combination of specific chemicals. It can be applied like regular paint. At least two coatings are necessary for better results. Again, the first coating must be completely dry before the next application.
What to Expect
The whole installation process may take several days. The most crucial part is the preparation. It can be tedious and time-consuming. Since epoxy is a strong chemical, expect a strong smell during and after application. The odor will eventually go away in a few days.
Remember that epoxy coated floors are not flawless. Oil-based epoxy coats can be slippery. The floor must be texturized to prevent risks. If you need to find out more about commercial epoxy flooring, consult the help of experts.
Call Epoxy Fort Worth for your Commercial Flooring Needs
The actual application process may be laborious for those without proper training. Worse, epoxy may not last long if the coating is not done properly. Epoxy Fort Worth has a highly skilled commercial epoxy flooring team in Fort Worth. We have successfully installed epoxy flooring in several commercial establishments.
Our team will only use the best materials for the installation. We know the safety protocols and we strictly follow. With our superior installation service, you can be sure that your flooring will last for decades. Contact us now to request for free quotes and free consultation.